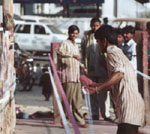 Making Manjah (cutting line)
in the street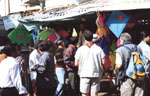 One of a hundred kite shops
on the kite market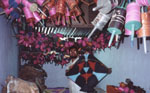 Another kite shop,
kites and manjah
Makar Sankranti is a Hindu festival that is celebrated each 14 January, as this is the day when the days start to get longer again.

In Gujarat, among other states in India, the holiday is celebrated by kite flying. On this day families spend the entire day on the roof tops, flying patang, fighting in the air trying to cut the strings of other's kites. The sight of tens of thousands of kites in the air speeding to and fro, hunting and escaping winning and losing is totally undescribable.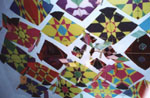 Kites displayed in the ceiling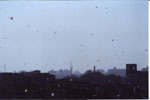 A sky of kites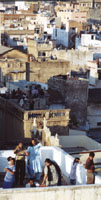 A family day on the roof top
Gujarat Tourism has for 13 years organised an international kite festival around this event. This kite festival is really a series of kite festivals in three different cities, one of them is always Ahmedabad. In 2001 the two others cities were Surat and Bhavnagar, each at a 5 hour bus ride from Ahmedabad.

The hospiltality, generosity and care that the people of Gujarat Tourism show the invited kite flyers is truly something quite extra!