Fly a Kite, Charlie Brown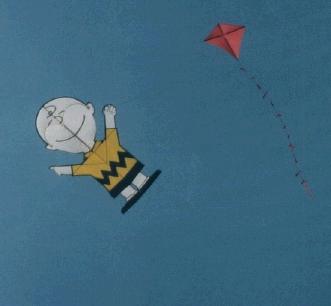 Charlie Brown har aldrig fått upp en drake i luften. Är det inte trassel med linan eller trassel med svansen så är det drakätarträdet eller något annat.
Här är Charlie Brown själv en drake, som flyger en annan drake.


One of those things that Charlie Brown never managed to do is to get his kite up in the air and keep it there. Either it's the Kite Eating Tree, tangle on the line or whatever.
So this is the kite Charlie Brown flying another kite. Tricky!
"Charlie Brown flying a kite" Cake
The song Kite by Vince Guaraldi from a Penuts movie (which one??).